Stahlhandel Gröditz
At Stahlhandel Gröditz, you can expect top quality and short delivery times for stainless & alloy steels from stock. Choose the right steel cutting from flat steel, round steel or sheet metals. Mainly German/European material.
Our extensive stock program offers over 90 materials (1.4462, 1.4057, 1.4104, 1.4313, 1.4418, 1.4542, 17-4ph, 1.4404, Alloy 825, 1.4122, 1.4112 and 1.4410) which can be sawn to the requested size in minimal time. With a steadily growing machine park, it's possible to process steel with a unit weight of up to 25t.
Your expert in sawed steel cuttings directly from stock
With our many years' experience and immediate availability from stock, you benefit from having a reliable partner in stainless steel & quality cuttings. International customers have a contact person available to them in all European countries. Our experienced staff are happy to advise you and look forward to your call!
Sawing job orders - working together!
Benefit from our years of experience in the field of job order sawing and contract milling.
In the field of sawing job orders, we specialize ourselves in sawing forged round steel, large rings, bearing rings and ventilation wheels and perform the sawing either after painting or as per drawings.
With high dimensional accuracy, we can milled with pieces with dimensions up to max. 1000 x 1000 x 4000 mm and a piece weight up to 25 t.
Inform yourself in a personal conversation about further details.
Services that inspire confidence
With the right know-how, technical competence and experienced staff, we always deliver top results of the highest calibre.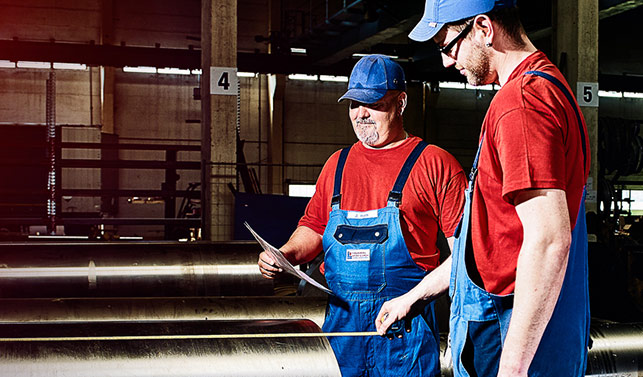 High quality pays off
Lloyd's Register Quality Assurance has been monitoring Stahlhandel Gröditz GmbH's extensive quality management ever since 1998. The products are continually inspected, and our suppliers are integrated in our quality management system through quality agreements. You can expect top quality from us!
Advantages you should utilise
As an authorised sawing centre in accordance with DIN EN ISO 9001:2015 LRQA (Lloyd's Register Quality Assurance), we offer over 90 stainless and quality steels which can be specially sawn and processed as specified by the customer. The extensive stock programme comprises over 4,000t of stock material.
With a steadily growing machine park, it is possible to carry out quick processing in the small, medium and large-scale series segment up to a unit weight of 25t. Steel cuttings can be further processed on request, ranging from sawing and milling to drilling.
We provide worldwide delivery, including the organisation of export customs clearance and handling shipping via sea & air freight, assuring you of fast, safe delivery.
Together with you, we analyse your requirements and find the best possible solution for being able to deliver ready-to-install parts. Learn more about our services in a personal consultation. You'll find the right contact person here.