Back to category page
1.8159 (51CrV4) directly from stock & cut to your required dimensions!
International identifiers
AISI 6150, SS2230, BS970 735A50 / 735A51, 50HF
Scopes
1.8159 is used as a tempering and spring steel for highly wear-resistant and through-hardening components. Especially in areas of automotive engineering and general mechanical engineering.
With us you can buy this material in an annealed design, so that after machining each component can be hardened individually.
In this case, tensile strengths of 800-1300 N / mm² can be achieved - depending on the cross section - which makes the components harder than for example the usual engineering steel 1.7225.
A small amount of silicon is added to obtain a corresponding elasticity at a high hardness at the same time.
EU material from stock.
1.8159 is popularly known as AISI 6150​​​​​.

Areas of application: 51CrV4 is used for a variety of parts, which should primarily have good toughness. The main industry for this material is the automotive industry, but also the machine and gear construction uses this material, if high-strength parts are needed.
Areas of use: the material 1.8159 is most commonly used for camshafts, racks and pinions. In addition, from this material can be used for quality wrenches, cradles and scissors.
Characteristics
| | |
| --- | --- |
| Wear resistance | good (in a hardened condition) |
| Weldability | weldable |
| Toughness | very good |
| Corrosion | resistance low |
| Machinability | good (in the annealed condition) |

Hot forming: hot forming, for example: Forging, should be performed between 1050°C - 850°C. This material should be cooled down very slowly in the air.

Heat treatment
Normalizing: A temperature between 870°C and 900°C should be considered during normalizing. Thereafter, an air cooling takes place.
Soft annealing: The material 1.8159 is annealed at temperatures of 680°C - 720°C. This is followed by a slow cooling in the oven.
Heat treatment: The tempering takes place at 820°C - 860°C. Subsequently, the material must be quenched in oil. Quenching may also be performed with an aqueous polymer solution that is equivalent.
Tempering: During tempering, temperatures of 540°C to - 680°C are common, with subsequent cooling in the air.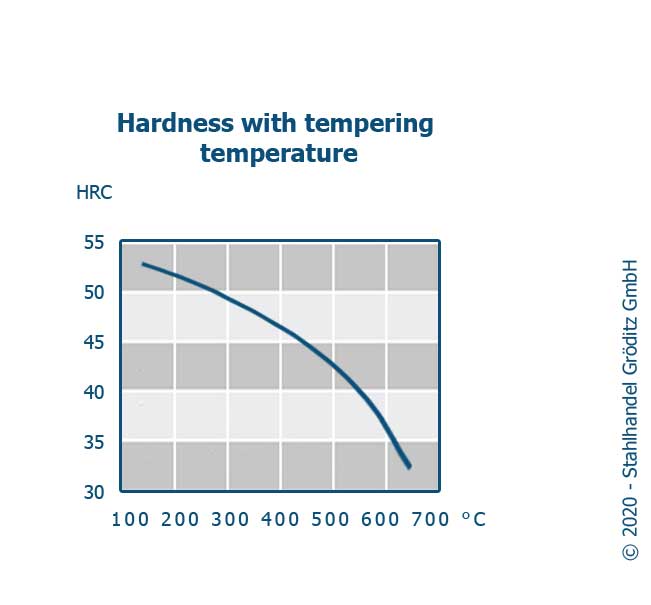 Processing:
| | |
| --- | --- |
| Spent processing | is possible |
| Nitriding | is possible |

Mechanical properties:
Soft annealed: hardness according to Brinell: <285 HB

Physical Properties:
| | |
| --- | --- |
| Density in kg/dm3 | 7,7 |
| Electrical resistance at 20°C in (Ω mm2)/m | 0,19 |
| Elasticity (103 MPa) | 210 |
| Thermal conductivity at 20°C in W/(m K) | 42,6 |
| Specific heat capacity at 20°C in J/(kg K) | 470 |
Chemical composition
1.8159
51CrV4
C
Si
Mn
P
S
Cr
Mo
Ni
V
min.
0,47
0,4
0,9
0,10
max.
0,55
0,4
0,7
1,2
0,25
In stock
Flat, forged, annealed

Advantages of saw cut
The processing with the saw is a mechanical processing of the material, which results in a significantly lower unintended deformation and increased hardness for the existing structure, such as the thermal cutting.
Thus, the machined workpiece has a homogeneous structure even at the edge, which does not change in the continuation of the material.
This circumstance allows immediate finishing of the workpiece with milling or drilling . So it is not necessary to anneal the material or make a similar operation beforehand.
Do you have any questions?
We are happy to answer your questions and make you an offer for these and other materials. Contact us now for more information.
Notice: Specifications contained in following data sheet are provided as a description, liability is excluded!
---