Duplex steel and super duplex - high quality materials for your requirements
Duplex steel is a rust and acid resistant steel grade with a two-phase structure made of ferrite and austenite, which has both high strength values ​​and at the same time high toughness at room temperature. Duplex steel and super duplex combine the properties of chrome steel grades and chrome nickel steels.
Duplex steels are divided into two groups:
Standard-Duplex (z.B. 1.4462): Is the most common option, with over 20% chromium, around 5% nickel and around 3% molybdenum.
As a long-standing expert in steel trading, we offer duplex stainless steel exactly according to your expectations: cut, machined and quickly delivered.
1.4462 - ASTM A182 F51 - Duplex (Ferrite/Austenite-Types or Duplex Stainless Steels) : UNS S31803 /UNS 32205 or grade 2205 (Common name, not a trademark, widely used)
1.4501 - ASTM A182 F55 - Superduplex: UNS S32760
1.4410 - ASTM A182 F53 - Superduplex: UNS S32750 or grade 2507 (Common name, not a trademark, widely used)
Duplex stainless steel in direct comparison
The corrosion resistance and strength characterize both duplex and super duplex steel. In contrast to other types of steel, they are nevertheless easy to weld. The properties of the two most common duplex steels at a glance:
| | | |
| --- | --- | --- |
| | Duplex | Super Duplex |
| Malleability | medium | medium |
| Weldability | good | good |
| Corrosion resistance | excellent | really good |
| Machinability | medium | poor |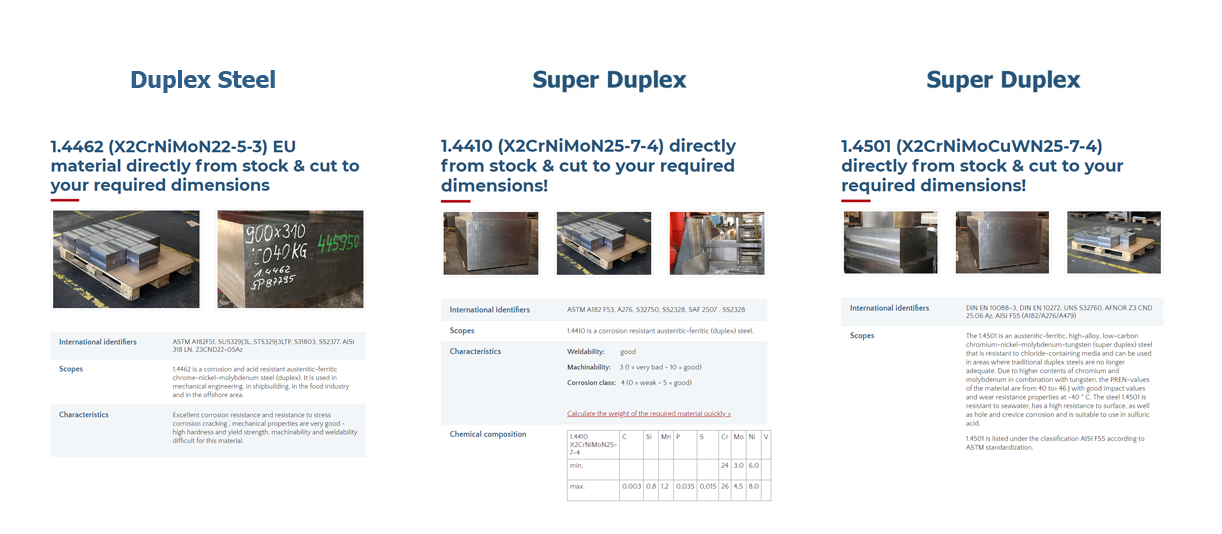 Where is normally this type of material used?
The Duplex steel is mostly used where high corrosion resistance and strength of the material is needed. Standard duplex is used, for example, in the construction industry, ship-building, the food industry and mechanical engineering.
Advantages of duplex steel
High resistance to corrosion (pitting, crevice corrosion, stress corrosion cracking)

Higher strength compared to chrome-nickel steel

Higher deformability compared to stainless chrome steel

High resistance to energy absorption (over a wide temperature range), erosion and abrasion

Good weldability

Low thermal expansion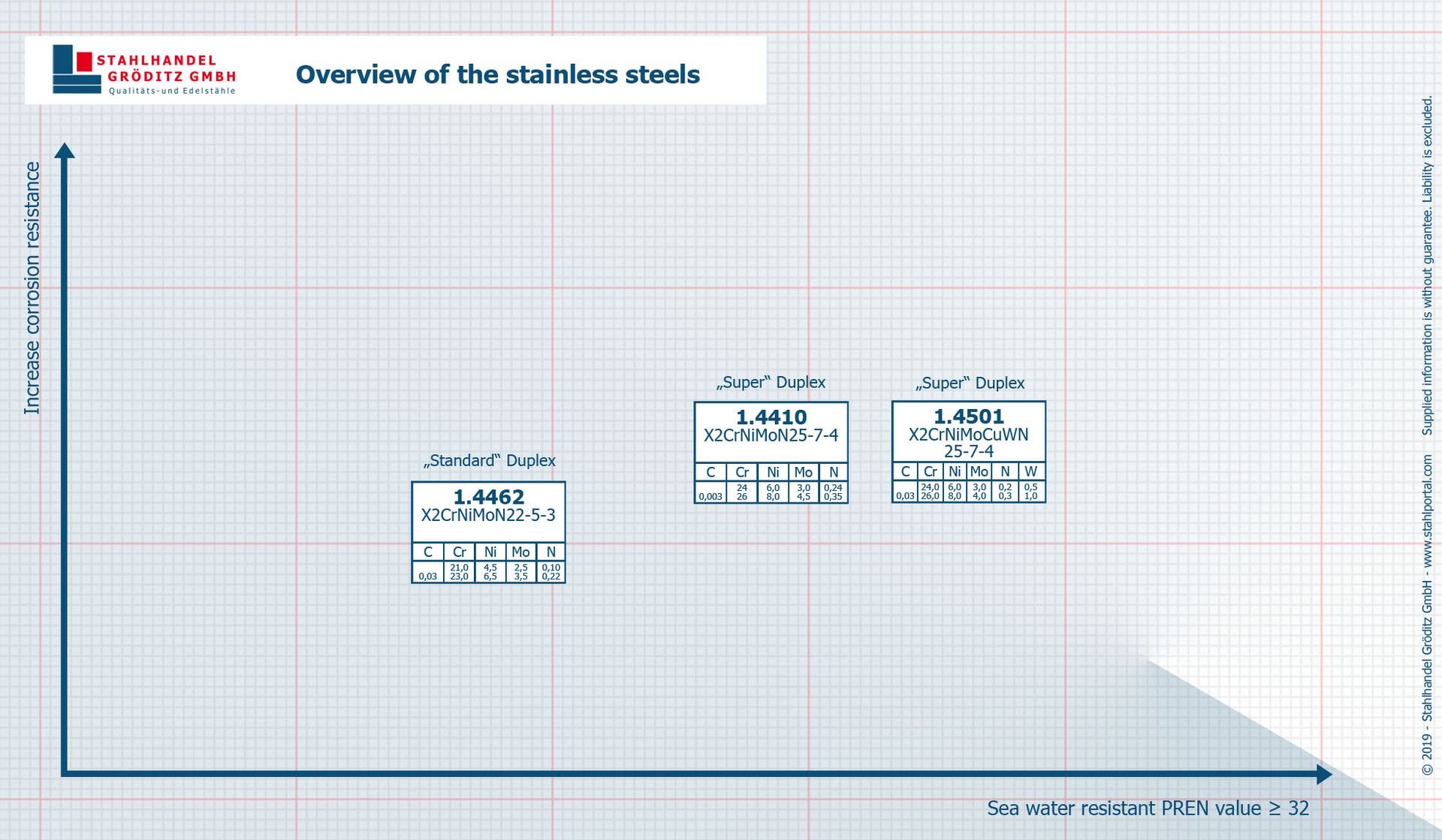 Processing and surface treatments of the duplex stainless steel
When processing duplex steels, which are mostly rolled into sheets or steel bars, the spring-back properties must be taken into account. In addition, high deformation forces are required for cold forming, which are even higher with Super Duplex. Both steels are also suitable for hot forming. With duplex stainless steel, this should take place in a temperature range from 1000ºC to 1100ºC, and with super duplex between 1080ºC and 1280ºC.
For surface treatment, duplex steel can be immersed or spray pickled to remove scale layers and impurities. The material can build up a closed passivation against corrosion. Other options for producing an optimal corrosion-resistant surface are grinding, blasting (with non-ferritic blasting material) or brushing.
Duplex and Super Duplex sawn to your required dimensions directly from stock
Duplex and Super Duplex are among the stainless steels that we can deliver immediately from our stock. As an authorized sawing center, we are happy to saw the material to the size you require. We have as well a competent partner network, therefore we are able to provide the services of milling, drilling or turning.
Do you have any questions?
We are happy to answer your questions and make you an offer for these and other materials. Contact us now for more information.